Millionaire by 21: Ang pao (红包) secret revealed!
财源滚滚 (cáiyuángǔngǔn)
 Profits pouring in from all sides
This post contains financial advice. Please follow at your own discretion. It is best to seek a professional financial planner to get the best advice for your specific situation.

"The Ang Pao (红包) si a red handy-sized paper envelope filled with money usually given by married Chinese adults and the elderly to children and unwed young people during special occassions."
We reach out with both hands say "to sha" ("Thank you" in Hokkien) with a giddy heart as we receive our ang pao (红包). We then turn-around and promptly hand it to our parents for safe-keeping.
Personally, I never really gave much thought on what my parents did to the money as long as I knew it is safe with them.
As I grew older, I became more aware of my finances and where I put my hard-earned money. One day, while playing around with many "what-ifs" scenarios on the best ways to invest my money, I came to one that struck me as curiously lucrative.
It has something to do with maximizing my ang pao returns by utilizing my most important asset as a kid and nope it's definitely not money but… TIME.

The Power of Time
As an adult, you will realize that money isn't easy to come by. Thus becoming a millionaire seems to be a distant dream, much less being one in your 20s. (Php 1,000,000 is approximately $23,000).
I have heard a lot of investment advice in my quest to find the best place to grow my money while I am still working full-time.
One of the things that is constantly preached is to invest for the long-term. Financial advisers would show computations on how your money could grow 20,30 and 40 years down the road. And how a person who invested in his 20s (i.e. 2000/month) could beat out someone who just started investing say in his 40s (i.e. 20,000/month) by the time they retire.
When I heard this advice, I was already in my 20s and it got me wondering…
"What if my ang pao money was invested in these vehicles from the start? How much would I possibly have had by the time I graduated at the age of 21?"
Along the way, I discovered a couple important reasons why TIME is probably the most important factor to achieving millionaire status by 21.
Here they are:
1. Buffer for Failure
The risk and reward logic goes a little something like
"the bigger the risk, the bigger the reward/loss"
"the smaller the risk (safer), the smaller the reward/loss".
Click here for a short video on RISK and TIME HORIZON
[leadplayer_vid id="5158396068BE5″]
This is how the game works and it is up to us to learn how to play it.
So how do we play this?
The rule of thumb goes a little something like…
the younger you are the bigger the risk you can take.
Why?
Because you have enough time to recover should your risky investments don't go as you planned.
So the closer you are to retiring age…
The more money you put in safer investments like bank time deposits.
This is because if you put it in a risky investment and it doesn't go your way, you won't have enough time left to recover the losses prior to your retirement.
2. Compounding Interest
[leadplayer_vid id="51583CE5A3D9C"]
We could clearly see from the video the EXPONENTIAL power of compound interest. So much so that a certain German scientist was quotes as saying…
"The most powerful force in the universe is compound interest"
– Albert Einstein
What's the Curiously Lucrative Idea?
Ok so we had just found out how valuable time is to the growing our money. But these concepts are not new, so what is the big deal?
Good question. It is actually just a simple idea. It's the execution that is a bit tricky.
Based from the concepts described above, the best way to get the highest returns is simply:
1. Finding the best financial investment, and
2. Allow the money to compound itself for the longest possible time
Makes sense?
Now let me show you what kind of investment vehicle and strategy I am talking about.
The Best Place to Invest in is…
The best financial investment for the long term that would both provide great returns and protection from inflation are STOCKS.
As we can see from the report, returns from stocks (14.1%) beat out the 91-day Treasury bills (11%) and savings (2.3%). This already takes into account the 1997 Asian Financial Crisis and the 2008 sub-prime debacle in the U.S.
Wait a minute…
If you don't have any idea on what stocks are you can get a quick start by downloading this basic guide to investing in the stock market.
A Basic Guide to Investing in the Philippine Stock Market
MAXIMIZE THE POWER OF COMPOUNDING
We are talking about long-term investment here. So our time horizon here is pretty long. Investment advisers would plot your investment path from the time you are earning some income just like the example below.
BUT!
You don't actually start "earning" money upon employment, do you? You actually "earn" money even as a kid through ang pao.
So instead of starting from age 45, 35 and even 25, you could actually start from well… 0 years!
Of course at this age you don't actually control your money, so parents listen up:
Invest (part of) your kid's ang pao money in the stock market!
By doing this, you will be investing in the best investment vehicle possible for the maximum amount of time.
This is just for information purposes. It is best to diversify your risk at any age. It is still best to seek professional financial advice prior to investing.
STOCK INVESTMENT STRATEGY TO USE
Investing in stocks is not like putting money in a fixed-income instrument such as bank time deposit or bonds where you receive a fixed interest in a certain interval.
The returns you get from investing in stocks are NOT guaranteed. This fact alone scares the heck out of most people. But as I have shown in the graphic above, in a long-term investment scenario, stock investment generally beats out fixed-income instruments.
Here are a few guidelines I have when selecting an investment style:
1. Low maintenance : I don't have the time and energy to monitor every small change in my stock's price
2. Stable companies : I want to invest in companies that have a strong track record and that I am familiar with.
3. Simple : I want something that I could easily understand and implement.
4. Systematic and consistent : I don't have boatloads of money. Hence I want a strategy that would allow me to build my portfolio over-time from my salary/income and STILL give me substantial returns.
I found a strategy that would allow me to do all this and it is Dollar/Peso Cost Averaging. To know more watch this video:
[leadplayer_vid id="51583F34780F7″]
I like this strategy because it takes the question of whether or not you are buying at the right price out of the equation. Because instead of having price determine whether you should buy or not, you rely on timing instead.
You buy at a regular interval with a fixed amount (i.e. Php 2000/monthly). At times, you may either buy at a high or at a low but over the long run your average price will still be lower than the prevailing market price.
Ok, too much words. Let's see the millions.
MILLIONAIRE BY 21!
Here comes the juicy part. So let's say you were to invest your children's ang pao using the Dollar/Peso cost averaging method.
Here are the important figures that we will use:
Initial investment : Php 5,000
Monthly addition : Php 1,000
Years to grow : 21 years
Interest Rate : 12%
That is a cool million and change. Sweet huh?
If you notice none of the investment are particularly significant. The vital component here is TIME.
Though a word of caution here is the fact that the 12% income is not guaranteed. It may go lower or higher like the actual 14.1% return from our earlier example.
Having said that, let's just remember what we said about time and risk. You can take more risk when you are younger because you still have time to recover. Just imagine how much risk you can take when you start from 0 years of age?
FAST TRACKING YOUR STOCK INVESTMENT KNOWLEDGE
There are hundreds of company in the stock market and you don't have the time and expertise to pick-out which ones are the best ones to invest in.
I hear you.
That is why I sought and found an adviser who gave me information on:
* which stocks to invest in
* at what prices I should buy and sell
* a refined Peso cost averaging system
* market conditions / changes
* and many more (note: more than just money advice)
It is Bo Sanchez's Truly Rich Club. To know more about it, click below.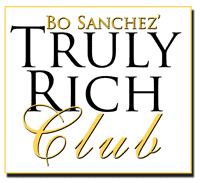 Just to be clear, you certainly don't need to join any club to get it right with the stock market.
You must assess your financial goals, your risk tolerance and more importantly what you are willing to do to achieve your financial goals.
WHAT YOU CAN DO RIGHT NOW?
You can read more about investment and finances at the following links:
Investopedia – As the site suggests, it's the encyclopedia of investing
Randell Tiongson – A renowned financial planner and director of the Registered Financial Planner Institute Philippines
BPI Trade or Colfinancial – Online brokers who could help you with starting out on your stock investments
For specific stock investment strategies and more
Check out Bo Sanchez's The Truly Rich Club.
Did you like this post? Do you have any investment strategy to share? I'd love to hear it in the comments section below.